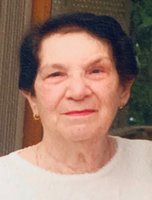 Theresa Lorsong
Theresa Lorsong, 97, of Moosic, died Thursday at Hospice of the Sacred Heart, Dunmore. She was preceded in death by her husband, Peter, in 1992.
Born in Old Forge, she was the daughter of the late Pasquale and Rose Carone Tomeo. Theresa was a graduate of Old Forge High School's Class of 1939. She served in the U.S. Army. In her early years, she worked at her family's business, Tomeo's Bar & Restaurant. Prior to retirement, she was employed at Anemostat Products, Scranton, and Gerrity's Bakery. She was a member of the Prince of Peace Parish, Old Forge, and the Moosic Retired Citizens' Organization, and enjoyed attending their events.
One of Theresa's greatest joys in life was baking and playing cards with family and friends. She was an avid reader and enjoyed watching game shows, working crossword puzzles, playing solitaire every morning, and going to Casino's.
The family would like to thank Hospice of the Sacred Heart and her caregivers; Danielle, Jennifer, and Stephanie for their care and compassion that made it possible to fulfill Theresa's wishes of staying at home.
Surviving are daughters, Roseanne Sporer, Scranton, Mary Jo Grazious and husband, Tom, Moosic, a son, Peter and wife, Juanita, Chesapeake, VA, grandchildren; Angela and Thomas Grazious, Christine Girimonti, Michelle Sherman, Donna and Mary Sporer, Theresa Lorsong, great-grandchildren; Ocean Chambers, Adam , Evan, and Ava Nitch, Molly Sherman, Bodhi Girimonti, nieces, and nephews.
Theresa was preceded in death by a son in-law, Joseph Sporer, a granddaughter, Angeleen Lorsong, three brothers, Joseph, Patrick, and Neal Tomeo, three sisters, Angie LaCanna, Fannie and Marie Tomeo.
A mass of Christian burial will be celebrated by Rev. August Ricciardi, Pastor on Friday at 10:00 a.m. at the Prince of Peace Parish – St. Mary's of the Assumption Church, 123 West Grace Street, Old Forge. Interment Old Forge Cemetery.
Funeral arrangements have been entrusted to the Louis V. Ciuccio Funeral Home, 145 Moosic Road, Old Forge.