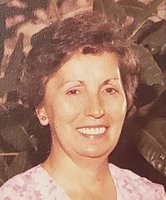 Grace Jane Rose
Grace Jane Rose, 94, of West Pittston, died Saturday at Wesley Village, Pittston, where she was receiving short term physical therapy.
Born in Newark, NJ, she was the daughter of the late Chester and Rose Mary Doyle Rose. Grace was a 1945 graduate of West Pittston High School. She was employed by the Pennsylvania State Unemployment Office, Pittston branch. For many years, she also helped care for her late mom and her late Aunt Annie Doyle. She was a very active member of the First Methodist Church of Pittston, where she performed weekly readings, served as a choir leader, a church trustee, and was a member of the Youth Methodist Fellowship.
Grace is survived by her sister in-law, Ann Rose, nephews; Jim Rose, Scott Rose and wife Yvette, Mark Baron and partner Lisa Fultz, Alfred Baron, and also by Maria Baron, who was the wife of her late nephew, Robert Baron. Maria was very helpful to Grace. She is also survived by several great-nieces and great-nephews.
She was preceded in death by her sister, Helen Baron and husband Alfred, two brothers, Chester Rose and wife June, Allan Rose, and a nephew, Robert Baron.
Grace was a wonderful daughter, sister, aunt, and person who will be greatly missed by all who knew her.
Grace's funeral service will be held Wednesday at 10:00 a.m. at the Louis V. Ciuccio Funeral Home, 145 Moosic Road, Old Forge, to be celebrated by Deacon Jim Rose. Interment will immediately follow at St. John's Cemetery, Pittston.
Relatives and friends are invited to pay their respects at the funeral home on Wednesday morning from 9:00 – 10:00 a.m.
To leave an online condolence or for directions, please visit the funeral home's website at: ciucciofuneralhome.com