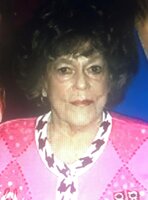 Marjorie M. Terruso
Marjorie Terruso, 93, of Vero Beach, Florida, passed away peacefully on Saturday, February 15, 2020, at Hospice House in Vero Beach. Born in Fleetville on January 13, 1927, she was the daughter of the late William and Ora (Colvin) Gowe.
Before moving to Florida in 1980, Marge lived in the Green Ridge section of Scranton and in Old Forge. She was a graduate of East Benton High School and received an Associates Degree from Lackawanna Business School. She was employed by Armour & Company until their closing, then moved to Florida where she worked for the United States Postal Service until her retirement in 1992.
She was the best mom and grandmother anyone could ever have. Her grandchildren were so blessed to have had her in their lives every day. She is greatly missed.
Marjorie is survived by her daughter and son in-law, Ronald and Sharon (Brennan) Hatala, who were her caregivers, three grandchildren; Brock Hatala, Vero Beach, FL, Dr. Alexis Hatala Hollingsworth, Columbus, GA, and Bri (Hatala) Heath, Vero Beach, FL, three great-grandchildren; Carter Hollingsworth, GA, Boone and Sutton Heath, Vero Beach, FL, two step-sons, Joseph and Louis Terruso, Old Forge, and 6 step-grandchildren.
She was preceded in death by her first husband, Willard P. Brennan, and her second husband, Joseph A. Terruso, an infant son, Robert Keith Brennan, a sister, Lorraine Kuratnic, and a brother, William Bruce Gowe.
Funeral arrangements have been entrusted to the Louis V. Ciuccio Funeral Home, 145 Moosic Road, Old Forge, PA 18518.