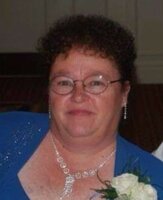 Edna F. Fink
Edna F. Fink, 66, of Pringle, passed away Friday at Geisinger Wyoming Valley Hospital, Wilkes-Barre. She was the wife of Herbert Fink. The couple celebrated their 49th Wedding Anniversary on March 29, 2021.
Born Dec. 19, 1954, in Brooklyn, NY, she was the daughter of the late Albert and Gertrude Murphy Moss.
Surviving in addition to her husband, Herbert, are three sons; Herbert Jr. and wife Alexandria, Duryea, George and wife Catherine, Duryea, Peter and wife Selena, Jersey City, NJ, a daughter, Dawn Marie Fink and husband Michael, Edwardsville, sixteen grandchildren, seven great-grandchildren, two brothers, John Moss, Joseph Moss and wife Deborah, three sisters, Rosemary, Margaret, and Cookie, nieces, nephews, and her special canine companion, Bear.
Edna's funeral service will be held Saturday at 6:00 p.m. at the Louis V. Ciuccio Funeral Home, 145 Moosic Road, Old Forge.
Viewing hours will be held Saturday from 3:00 – 6:00 p.m.
To make an online condolence or for directions, please visit the funeral home's web site at: ciucciofuneralhome.com