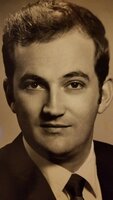 Stanley S. "Sonny" Zaorski
Stanley "Sonny" Zaorski, of Clifton Twp., died Monday at Geisinger CMC, Scranton, from COVID-19. His wife of 61 years is the former Sharon Smith.
Born October 15, 1942, in Scranton, he was the son of the late Stanley and Stella Zaorski. Upon graduating from North Pocono High School, he enlisted in the United States Air Force. After serving his country for four years as a SSGT, he returned home and opened Zaorski's Sporting Goods which became one of the first snowmobile dealers in the area. He was a distinguished member of the Arctic Cat Pioneer Club for being one of the first distributors in the northeast. He was one of first 10 distributors for arctic snow machines, and solely responsible for introducing them to this area. He was also a winning snowmobile driver at many events around the Eastern United States. He was an accomplished lead guitar player with his band the Trail Riders in the '50s and '60s.
Sonny lived his life, doing whatever made him happy at the time. He had many hobbies. He enjoyed hunting, fishing, trapping with his best friend of 75 years, Melrose McClain, mink farming, and gold prospecting. Not one to be left behind by changing technology, he also developed a love of computers and enjoyed teaching his friends how to use them.
Throughout his lifetime, at different times he owned several businesses including a sporting goods store, an excavation business, and a hunting lures business where he created and distributed big game lures both locally and nationally through his business website that he designed himself. He also worked as a security officer both at the Tobyhanna Army Depot and briefly at Lake Naomi Club. He was a loving husband and father.
Also surviving, along with his wife, are his son Robert and wife Kristin of Madisonville, daughter Carole Gress and partner William White of Moscow, seven grandchildren; David Zaorski, Michele Saita, Jessica Lewis, Robbie, Jillian, Ivy, and Jordyn Zaorski; two great-grandchildren, Destiny and Jesse Saita.
He was preceded in death by daughter Gail Mecca and sister Louise Bartridge.
Due to COVID-19, Private services will be held at this time.
Funeral arrangements have been entrusted to the Louis V. Ciuccio Funeral Home, 145 Moosic Road, Old Forge. To make an online condolence, please visit the funeral home's web site at: ciucciofuneralhome.com