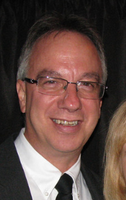 William D. Malia
William D. Malia, Jr., 62, of Old Forge, passed away Tuesday at Geisinger Community Medical Center. He was married to the former Marie Grableski. The couple celebrated 34 years of marriage.
Born in Old Forge, he was the son of the late William D. and Clare Graham Malia. William was a 1977 graduate of Old Forge High School. He was employed as a Business Analyst for the PA Office of Administration. He was a member of the Prince of Peace Parish, Old Forge.
Bill is survived by his loving wife Marie, his daughter Morgan, two sisters Cathy McGarry, Patti Lou Pizzola and husband Pat, all of Old Forge, a sister-in-law Jacqueline Smith, Pittston, his mother-in-law Mary Ann Grableski and sister-in-law Joann Grableski, both of Hughestown, and many nieces and nephews.
Bill was preceded in death by a brother, Thomas C. Smith, Sr..
Bill was a loving husband, father, brother, uncle and friend. He would do anything for "his girls". Bill enjoyed the simple things in life; being outdoors, golfing, spending time with family and friends, and especially his 1971 Corvette! The entire family depended on him in countless ways. He was a jack of all trade's kind of guy! Bill will be deeply missed by all who knew and loved him. He was "Always ready for a good time".
A Mass of Christian Burial will be held Tuesday at 10:00 a.m. at the Prince of Peace Parish, 123 West Grace Street, Old Forge, by the Rev. August Ricciardi, Pastor. Interment Old Forge Cemetery.
Prior to the mass, relatives and friends are invited to pay their respects to William at the Prince of Peace Parish on Tuesday morning 9:00 – 10:00 a.m.
Funeral arrangements have been entrusted to the Louis V. Ciuccio Funeral Home, 145 Moosic Road, Old Forge. To leave an online condolence or for directions, please visit the funeral home's website at: ciucciofuneralhome.com