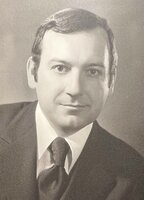 Tito A. Minella
Tito A. Minella, 92, of Old Forge, died peacefully on Sunday at the Glenmaura Senior Living Center, Moosic.
Born May 7, 1929, in Old Forge, he was the son of the late Antonio and Maria Carbone Minella. Tito was a 1946 graduate of Old Forge High School and earned a Bachelor of Science in Accounting at the University of Scranton. He entered the US Army and served as a Corporal and MP while stationed in Germany. He moved to Washington, DC, where he pursued a career with the United States Federal Government as a Certified Public Accountant. Tito moved back to Old Forge to enjoy his retirement. He was a member of the Prince of Peace Parish, Old Forge.
The family would like to thank the staff of the Glenmaura Senior Living Center, the staff of Home Instead, and the staff of Residential Hospice for their kind and compassionate care given to Tito.
Tito is survived by a sister in-law, Lillian Minella, nieces, nephews, cousins, and friends.
In addition to his parents, he was also preceded in death by five sisters, Mary, Adeline, and Theresa Minella, Rosina Pancotti, Angeline Galletti, two brothers, Sandy and John Minella.
A Roman Catholic blessing service will be held Tuesday at 11:30 a.m. by the Rev. August Ricciardi in the Louis V. Ciuccio Funeral Home, 145 Moosic Road, Old Forge. Interment will follow at the Old Forge Cemetery.
Relatives and friends are invited to pay their respects to Tito at the funeral home on Tuesday from 10:00 – 11:30 a.m.
To leave an online condolence or for directions, please visit the funeral home's web site at: ciucciofuneralhome.com