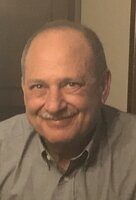 James M. Valvano
It is with deep sorrow that we mourn the passing of James M. Valvano, who died peacefully at his home in Salisbury, MA, surrounded by his beloved wife, the former Teri Lia, and his devoted sons, Vinnie and Michael.
Born in Mt. Vernon, NY, he was the son of the late Vincenzo and Josephine DePietro Valvano. He left New York to move to Pennsylvania, as proprietor and chef of Montage Manor. It was there that he met his wife Teri, of 36 years. They have resided in Massachusetts since June, 2020. Up until Jimmy's illness, his father-in-law, Ron Davis, also resided with the family, embraced by the love and support so graciously demonstrated by Jimmy.
He was a loving husband and father, who cherished his wife and sons, putting them above all else. They were his pride and joy, and his life revolved around them. Anyone who experienced the depths of his kind heart, knew that he always put others before himself. Despite no longer being a chef by profession, he was still passionate about cooking. He truly enjoyed sharing his talent with others, who enjoyed eating his meals in return. Dinners without Jimmy will never be the same.
Jimmy's family wishes to express their heartfelt thanks to all those who gave them support through this difficult time.
Also surviving in addition to his wife and two sons are a sister, Phyllis, a sister in-law, Janet, four nieces, and numerous cousins.
He was preceded in death by his brother, Rocco.
Due to the family's personal circumstances, there will be no viewing. Interment will be private at the family's convenience.
Funeral arrangements have been entrusted to the Louis V. Ciuccio Funeral Home, 145 Moosic Road, Old Forge, PA. To leave an online condolence, please visit the funeral home's website at: ciucciofuneralhome.com