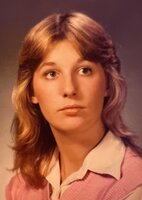 Gayle A. Piccolini
Gayle A. Piccolini,63, of Old Forge, passed away Sunday evening quietly at home with her sons by her side. She was preceded in death by her husband, Keith Schuback, in 1999.
Born in Old Forge, she was the daughter of Alice Francis Piccolini and the late Louis "Buddy" Piccolini. She was a graduate of Old Forge High School's Class of 1976. She was employed as a sales associate for J.C. Penney's. She was a member of the New Life Apostolic Church, West Pittston.
Gayle loved her children and her home. Her favorite past-times were gardening and antiquing. Her laughter was infectious.
In addition to her mother, Gayle is survived by her beloved sons, Keith and Justin Schuback, both of Old Forge, a granddaughter, Ela Schuback, a brother, Buddy Piccolini and wife Karen, a sister, Donna Nyzio and husband Edward, a niece, Miranda Nyzio Ruddy and husband Josh, three nephews, Ed Nyzio and wife Aniell, Buddy and Rico Piccolini, five great nieces, and cousins.
At the request of the family, Gayle's funeral arrangements will be private.
Funeral arrangements have been entrusted to the Louis V. Ciuccio Funeral home, 145 Moosic Road, Old Forge. If you wish to leave an online condolence, please visit the funeral home's web site at: ciucciofuneralhome.com