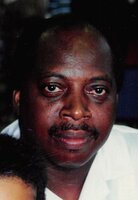 Douglas Hartzog
Douglas Hartzog, 70, of Old Forge, died Tuesday at the Regional Hospital. He was married to the late Mary Louise DiPipi, who passed away in 2007.
Born on Nov. 24, 1952, in Jefferson Davis, Mississippi, he was the son of the late Enos Butler and Lavina Smith. He was a devoted fan of the Pittsburg Steelers and the Philadelphia Phillies. Doug had a friendly personality and was well liked by those who knew him. Being a thoughtful person, he was an organ donor and donated his eyes in the hope of helping others.
Douglas is survived by a son, Christopher A. Hartzog, Old Forge, a daughter, Kym Jenkins, Scranton, five grandchildren, nieces, and nephews.
He was also preceded in death by a daughter, Denise Baldwin.
To honor Douglas, a Mass of Christian Burial will be held on Tuesday at 10 a.m., at the Prince of Peace Parish, Old Forge, to be celebrated by the Rev. August Ricciardi, Pastor. Interment Old Forge Cemetery.
At the family's request, there will be no calling hours.
Funeral arrangements have been entrusted to the Louis V. Ciuccio Funeral Home, 145 Moosic Road Old Forge, PA.