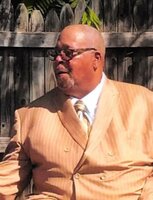 Anthony Womble
Anthony Womble, 66, of Scranton, passed away Saturday at Regional Hospital, Scranton. He was married to Lucille Petro.
Born November 22, 1956, in Brooklyn, NY, he was the son of the late John Henry Womble and the late Lucy Anderson.
In addition to his wife, Lucille, Anthony is survived by a son, Anthony Jr. and Diamond, NY, four daughters, Alicia, Shameka, Fantashia, and Anastashia, three grandchildren, Amir, Ashton, Rahine, three stepchildren, Robert Woodbridge Jr., Lorraine Strohl, and Michael Woodbridge, a sister, Vanessa, two brothers, Aron and Roy Womble, NY.
He was preceded in death by two brothers, Gregory and Ivan Womble.
The funeral service will be held at the funeral home Wednesday 5-7PM.
Funeral arrangements have been entrusted to the Louis V. Ciuccio Funeral Home, 145 Moosic Road, Old Forge, PA.