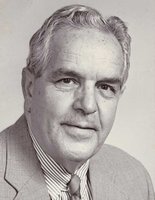 John Al Greco
John "Al" Greco, 94, of Old Forge, died Sunday at the Gino Merli Veterans' Center, Scranton. John was married to the former Frances A. Talarico who died on Dec. 7, 1981.
Born in Old Forge, he was the son of the late John J. and Mary Carlucci Greco. John was a 1939 graduate of Old Forge High School and was a U.S. Navy veteran having served from 1940 - 1946. John served in the Pacific Theater aboard the naval destroyer USS Long, the attack transport USS McCracken, and the air craft carrier USS Shangri-La. He was honorably discharged in 1946 from the Navy earning the rank of Petty Officer First Class. John earned 7 stars on his Asiatic Pacific Theater ribbons and was recently honored at the Lackawanna County Court House as a Pearl Harbor survivor. Prior to retirement, he was employed for 35 years as an outdoor power equipment salesman for the McCulloch Corporation, Tuscon, AZ, all its Eastern states distributors, and the Lawn and Golf Corporation, Phoenixville, PA. John has been the recipient of many outstanding sales achievement awards throughout his career, and was also a member of the American Legion and Veterans' of Foreign War. In addition, John was a member of the Prince of Peace Parish Old Forge where he served as an usher, and a member of its Holy Name Society.
The family wishes to thank the staff at the Gino Merli Veterans' Center, Dr. Armondo Sallavanti, and Dr. Katherine Sallavanti for the compassionate care given to "Al".
John is survived by his daughter, Maria Szymanski; son Robert Greco and wife Mary Kay, Old Forge. Three grandchildren; Michael Szymanski and fiancé Elizabeth Dorsey, Scranton, Robert E. Greco, Philadelphia, Gretchen Greco Holland and husband Dan, and great-grandson, Hudson Alfonso Holland, Old Forge, cousins, nieces, and nephews.
He was also preceded in death by three brothers, Anthony, Dominick, and Frank Greco, and a son in-law, Mike Szymanski.
The funeral will be Wednesday at 10 a.m. at the Prince of Peace Parish – St. Mary's Church, 123 West Grace Street, Old Forge. Interment Old Forge Cemetery.
Relatives and friends may call at the church Wednesday morning 9:00 – 10:00 a.m.
Full military services by the AMVETS Honor Guard.
Memorial contributions may be made to the Gino Merli Center, 401 Penn Ave., Scranton, PA. 18503
Funeral arrangements have been entrusted to the Louis V. Ciuccio Funeral, 145 Moosic Road, Old Forge.