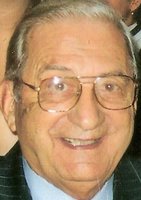 John J. Minella
John J. Minella, 90, of Plains, died Tuesday at the Hospice of the Sacred Heart, Dunmore. He was the widower of the late Irene Sack.
Born in Old Forge, he was the son of the late Antonio and Maria Carbone Minella. He was a graduate of Old Forge High School. Before his retirement, he was a supervisor at Jaunty Fabric Co., Scranton. He was a member of the Parish of St. Barbara, Exeter.
Surviving are two sons, John and wife, Annette, Vienna, Va.; Paul and wife, Cheryl, Chalfont; a brother, Tito, Old Forge; nieces and nephews.
John was also preceded in death by a son, Mark; five sisters, Mary, Adeline and Theresa Minella, Angeline Galletti, Rosina Pancotti; and a brother, Sandy Minella.
The funeral will be Saturday at 8:45 a.m. from the Louis V. Ciuccio Funeral Home, 145 Moosic Road, Old Forge, followed by a 9:30 a.m. Mass at St. Anthony's Church, Parish of St. Barbara, Memorial Avenue, Exeter. Interment Old Forge Cemetery.
Relatives and friends may call at the funeral home Friday from 5 to 7 p.m.