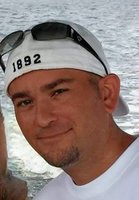 Shane W. Cooley
Shane W. Cooley, 34, of Tunkhannock, passed away Friday, Aug. 19, 2016, at Geisinger Medical Center located in Danville.

Born Aug. 27, 1981 in Abington, Shane was a son of Wilbur M. Cooley of Quakertown, and Diane M. Beans of Stevens.

Shane attended public school in the Cocalico School District, Lancaster County, and graduated from Cocalico High School in 2000.

At time of death he was employed as a Collections Manager for a car dealership.

Shane enjoyed spending time with family and friends. He also enjoyed vacations, movies, and going to concerts. He was loved by many including nieces, nephews, extended family and friends.

Shane leaves behind his Life Partner William Whispell of Tunkhannock; father Wilbur M. Cooley of Quakertown; mother Diane M. Beans of Stevens; brother Daniel A. Beans of Kutztown; stepfather Gary W. Beans of Stevens; maternal grandmother Elsie W. Unger of Doylestown; and grandparents William C. and Betty J. Beans of Warminster.

He is preceded in death by his maternal grandfather Helmut T. Unger of Southampton; and his paternal grandmother Joyce Sneed, of Scotrun. Shane also leaves behind his beloved English Bulldog, Festa. Festa was Shane's pride and joy.

There will be a celebration of life held on Saturday, Sept. 10. The memorial service will be held at St. Peters Episcopal Church, 3832 US-6, Tunkhannock, PA, 18657, beginning at 12:30 p.m.

A luncheon at the Creekside Inn, 406 State Rte 92, Tunkhannock, PA, 18657, will follow.

In lieu of flowers, Shane's family is requesting memorial contributions to help alleviate some of the cost of medical, funeral home and cremation expenses.

Contributions can be directed to Tim Griffin, 233 Billings Mill Rd., Tunkhannock, PA 18657.