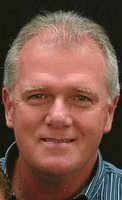 John J. Connors
John "Jack" Connors, 60, of Old Forge, died Saturday at Allied Skilled Nursing, Scranton after a courageous battle with advanced melanoma. He was married to the former Karen Serafin. The couple celebrated their 29th wedding anniversary on July 5.

Born in Pittston, son of the late John and Helen Battista Connors, he was a graduate of St. John's High School, class of 1973, and Luzerne County Community College. He was employed as a respiratory therapist for AeroCare, Scranton. In prior years, he worked as a tissue bank specialist for the Pa. Regional Tissue Bank, MTF and the Gift of Life Donor Program. He was a member of Prince of Peace Parish, Old Forge.

John was an avid runner and enjoyed participating in many marathons. He also enjoyed fishing, casinos, horse racing and most of all, his grandchildren.

The family wishes to thank Dr. Kenneth Sebastianelli, Dr. Padmaja Bojanapally, Dr. Madhava Baikadi and Dr. Lynn Schuchter for their excellent care.

Also surviving are a daughter, Davina Sims and husband, Mark, Warrior Run; two grandchildren, Ethan and Paisley Sims; mother-in-law, Rosalie Serafin; an aunt, cousins and many friends.

The funeral will be Thursday at 9:30 a.m. from the Louis V. Ciuccio Funeral Home, 145 Moosic Road, Old Forge, followed by Mass at 10 in Prince of Peace Parish/St. Mary's Church, 123 W. Grace St., Old Forge. Interment, Old Forge Cemetery.

Relatives and friends may call Wednesday, 4 to 7 p.m. Memorial contributions may be made to Gift of Life Donor Program, 401 N. Third St., Philadelphia, PA 19103; Women's Resource Center, P.O. Box 975, Scranton, PA 18501; or the donor's favorite charity.