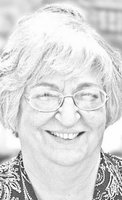 Elizabeth Jane Semenza Summa
Elizabeth Jane Semenza Summa, 65, New Orleans, La., formerly of Dunmore, passed away at her home in the company of her husband, Donato J. Summa, and her immediate family.

Born in Old Forge, she was the daughter of the late Rocco V. and Marion E. Nowak Semenza. She was a graduate of Old Forge High School and earned a bachelor's degree in psychology from Wilkes University, a Master of Science in rehabilitation counseling at the University of Scranton, followed by a Ph.D., A.B.D. in rehabilitation counseling at Penn State University.

Elizabeth, known as Betty to her family and friends, touched many lives. She will be sorely missed by those who knew and loved her.

Also surviving are three sons, Christopher Summa and wife, Stacey, New Orleans; Jason Summa and wife, Kimberly, Cambridge, Mass.; Brian Summa and wife, Delila Omerbasic, New Orleans; two grandchildren, Rocco and Isabella Summa, New Orleans; a twin sister, Rosalie, Old Forge; a brother, Lawrence and wife, Nancy, Springfield, Ill.; cousins, nieces and nephews.

The funeral service will be Saturday, Oct. 17, at 10 a.m. at the Prince of Peace Parish, St.Mary's Church, 123 W. Grace St., Old Forge. Interment, Cathedral Cemetery.

Family and friends may call at the Prince of Peace Parish on Saturday from 9 to 10 a.m. Funeral arrangements have been entrusted to the Louis V. Ciuccio Funeral Home, 145 Moosic Road, Old Forge.