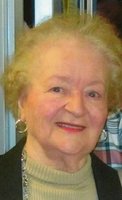 Genevieve G. Lloyd
Genevieve G. Lloyd, 91, a lifelong resident of Old Forge, died Wednesday at Moses Taylor Hospital. She was preceded in death by her husband, Harold Joseph Lloyd Sr., who died Nov. 7, 1989.

Born in Old Forge, she was the daughter of the late Anthony and Anna DelVecchio. Genevieve was a graduate of the Old Forge High School, class of 1943. Before retirement, she worked in the local garment industry. She was active in her community and was a member of the Old Forge and Moosic Senior Citizens' Associations. She was also a member of the Prince of Peace Parish, Old Forge.

Genevieve's kind heart and warm smile will live on forever in the hearts of all who had the privilege to know her. Her three children were blessed with one of the best mothers any child could ask for. Gen will be missed by all her friends at the senior center. Those weekly low-stake card games will never be the same.

Up until the end, Gen was an independent and lively 91-year-old. She made sure to see every one of her granddaughters' dance recitals and was still attending football games to see her granddaughters perform. Her grandchildren will miss her love and hugs dearly.

Thank you, Gen, for being a great wife, mother, grandma, daughter, aunt, friend and neighbor.

Surviving are a daughter, Cheryl Barbetti, Moscow; two sons, Harold Jay Lloyd, Moosic; David Lloyd and wife, Karen, Clarks Summit; six grandchildren, Vanessa and Cassandra Barbetti, Savannah and Hunter Lloyd, Mackenzie Nehme and Kate Lloyd; a sister, Eleanor Nalevanko and husband, Mike; a brother, Anthony DelVecchio; nieces, and nephews.

She was also preceded in death by two sisters, Elaine Grady and Anna Rose DelVecchio; and a brother, Eugene DelVecchio.

The funeral will be Monday at 11:30 a.m. from the Louis V. Ciuccio Funeral Home, 145 Moosic Road, Old Forge, followed by a 12 noon Mass at the Prince of Peace Parish, St. Mary's Church, 123 West Grace St., Old Forge. Interment, Old Forge Cemetery.