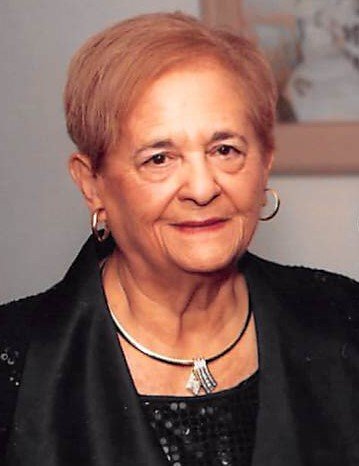 Obituary of Marie M. Brutico
Marie M. Brutico, 91, of Old Forge, died Sunday at Regional Hospital, Scranton, surrounded by her loving family. She was the widow of Francis Brutico who passed away on February 10.
Born in Old Forge on Aug 7, 1927, she was the daughter of the late Sandy and Josephine Giacometti Mattioli. She graduated from Old Forge High School and Lackawanna Business College., Scranton. Prior to retirement, she and her husband were the owners of the West Side Hotel, Brutico's Rosebud Restaurant, B & S Curb Service, and the Taylor Pizza Shop. Marie was an Administrative Analyst for the Pennsylvania Department of Public Welfare. Additionally, she served as a member of the Board of Directors for the Taylor Nursing and Rehabilitation Center. She was a member of the Prince of Peace Parish, Old Forge.
Marie enjoyed spending time with her family and going to the casino. She was an excellent cook and baker and enjoyed preparing Sunday lunch for the family. She was a loving wife, mother, grandmother great-grandmother and aunt.
The family would like to thank Dr. Kenneth Sebastianelli (Marie's nephew) for his kind and compassionate care given to Marie, Comprehensive Medical Home Care and caregiver Nana Beria.
Surviving are two daughters, Roseann Brutico, Old Forge, Sharon Silvon and husband David, Old Forge, five grandchildren, Allison Lucarelli, Bob Pikulski, Dean Silvon, Mara Silvon, Krista Gillick and husband Kurt, two great-grandchildren, Dante and Jake Lucarelli, nieces, and nephews.
She was preceded in death by a son, Francis A. Brutico, Jr., a granddaughter, Dana Silvon, a sister, Angeline Sebastianelli, a brother, Robert Mattioli, and a grandson in-law, Arthur M. Lucarelli, III.
The funeral will be Thursday at 11:30 a.m. from the Louis V. Ciuccio Funeral Home, 145 Moosic Road, Old Forge, followed by a mass at noon. at Prince of Peace Parish - St. Lawrence O'Toole's Church, 620 South Main Street, Old Forge. Interment Old Forge Cemetery.
Relatives and friends may call at the funeral home on Wednesday 5:00 – 8:00 p.m.
Memorial contributions may be made to the Arthur M. Lucarelli III Scholarship Fund, 104 Shawnee Drive, Old Forge, PA 18518.
To send flowers to the family or plant a tree in memory of Marie Brutico, please visit Tribute Store
Share Your Memory of
Marie

Our Location
145 Moosic Rd.
Old Forge, Pennsylvania
18518
Phone: (570) 457-2071
Email: ciucciofh@gmail.com
145 Moosic Rd. | Old Forge, Pennsylvania 18518 | Phone: (570) 457-2071 | Email: ciucciofh@gmail.com